Seafarers Mass with Cape Town Archbishop
The Most Reverend Stephen Brislin, Archbishop of Cape Town celebrated Mass in the seafarers' centre at the port on Saturday, February 6.
The Archbishop was invited by Catholic seafarers' charity Apostleship of the Sea (AoS), also known as Stella Maris.
The weekend of the 6th/7th coincided with the Feast of Our Lady of the Flight into Egypt, Cape Town Archdiocese's patronal feast.
February 7 marked Archbishop Stephen's sixth anniversary as Archbishop of Cape Town.
Present at Mass were AoS Cape Town port chaplain Fr Gerardo Garcia CS, Vicar General of the Scalabrini Fathers Fr Alfredo Gonςalves CS and Fr Filippo Ferraro a diocesan priest from Italy who works with the Scalabrinian Community.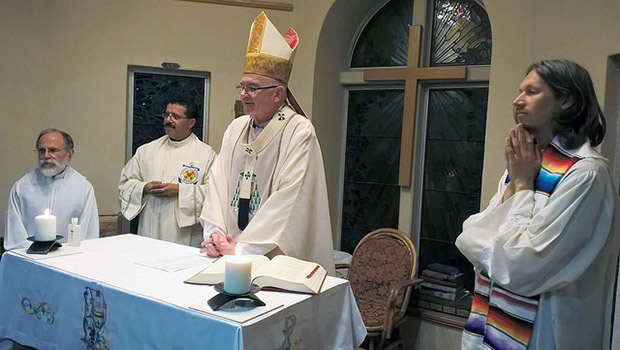 Also present were two Scalabrinian seminarians, three Holy Cross Sisters, AoS Cape Town committee members and their families, parishioners and a Filipino seafarer who was 'over the moon' when Archbishop Stephen gave him a special blessing.
Seafarers visiting Cape Town get a blessing at each Mass in the port, but this time having the Archbishop was extra special.
In his homily, Archbishop Stephen emphasised the importance of AoS continuing its work with seafarers by making them feel welcome and supporting their spiritual and welfare needs.
He also spoke about St Joseph and the role of men in the family and reminded those present that the Holy Family were refugees into Africa in Egypt.
This ties-in with AoS' ministry with refugees and seafarers. Many seafarers are often sole breadwinners of their families, and leave their families behind for many months at a time to work at sea and in foreign ports.
Fr Gerardo said, "The Archbishop's visit was very important to support the mission. We all were blessed by his visit and words of encouragement in this Year of Mercy in which seafarers show us the diversity of the Father's Mercy project."