Will you help buy a new vehicle to serve seafarers in South Africa?
Things are tough for seafarers in South Africa. Recently a man came into our South African office sobbing, he'd dropped a fishing line into the sea and as a punishment the captain tied him up with rope.
Some countries around South Africa don't have the same protections for seafarers, so we come across the worst cases of abuse and mistreatment of seafarers and fishermen. Our port chaplain Nicholas does everything he can to help these vulnerable seafarers.
He has helped two Tanzanian seafarers who'd been beaten for nine months, in a clear case of racism and rescued seafarers from modern slavery and trafficking. A vessel was abandoned for years; eight seafarers stranded with no pay and no way to get home. And every week, he meets hungry seafarers whose food is being rationed in port. More often than not, Stella Maris (Apostleship of the Sea) is the only agency on hand to help these desperate men.
Our port chaplain and volunteers are the ones on the phone rushing to sort things out before the vessel leaves port. They're the ones standing alongside seafarers being bullied and mistreated. They're the friend when they need it most.
But there's one thing holding this ministry back in South Africa. One thing would make the world of difference to seafarers in South Africa.
We urgently need a new truck.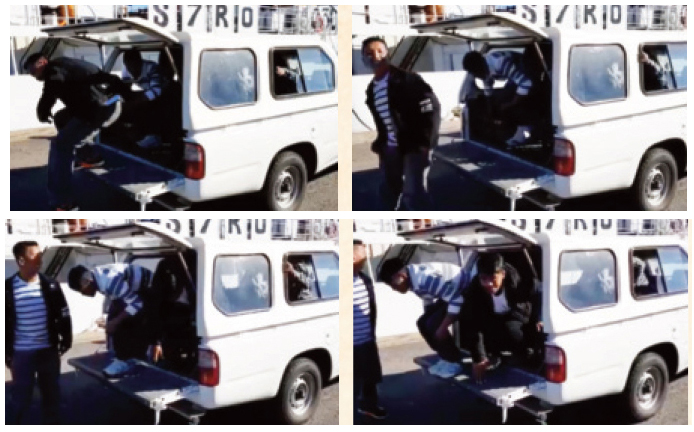 It's a vital piece of equipment for our port chaplain who is based in Cape Town but covers ports all the way to Richards Bay. Unlike most chaplains in Great Britain, Nicholas doesn't have a reliable vehicle to help seafarers. Instead, he uses his own truck – a 20-year-old Toyota – when he needs to get to ships or transport seafarers. But it's terribly unreliable. It leaks oil, often breaks down, and seafarers have to sit on upturned plastic crates in the back rather than on proper seats. It won't make the 500-mile round trip to visit the port in Mossel Bay, either, so Nicholas has to go by public bus. It takes six hours (one way), and he stays for a few nights to make it worthwhile. Some places are just too far to reach by public transport.
That's why we are appealing to you today.
By helping to buy a new truck, you will help us:
reach seafarers in ports we can't go to right now because they're too far away.
respond quickly to seafarers in crisis by getting to ships fast. This is critical when seafarers are only in port for a few hours.
enable more seafarers to go to Mass while they're in port, especially at Christmas and Easter, our busiest times.
take seafarers to the shops and on little outings.
It will cost £25,000 to buy a quality, seven-seater Toyota truck that's efficient to run but rugged enough to withstand the poor roads.
With help from our generous supporters, we hope that we can raise enough money to buy a new vehicle in time for Christmas. That way, we'll be able to say yes to all the seafarers longing to get to church to celebrate this special day.
So please, will you give a gift today to help buy a vehicle for seafarers in South Africa?

We rely on donations to continue our vital work. The easiest way to make a donation in South Africa is by Electronic Fund Transfer. It is safe and minimises costs to you and to us. (Credit cards are discouraged as they are currently an expensive option).
EFT contributions can be made to:
Account Name: The Apostleship of the Sea
Account number: 1335047492
Account type: Cheque Account
Bank name: NEDBANK
Branch Code: 112205 - Malvern, Queensburgh.
Please email deposit slip or confirmation to nicholas.barends@stellamarismail.org
Would you like to receive our email newsletters and see how your support makes a real difference to seafarers and their families?
Go here to sign up
and start receiving our newsletters.