Durban chaplain blesses R290m floating dock
Durban Catholic priest and Apostleship of the Sea (AoS) port chaplain Fr Herman Giraldo was given the honour of blessing a new floating dock during a ceremony held at Dormac Shipyard in Durban on September 4th 2016.
Fr Herman, who is Durban port chaplain for seafarers' charity AoS, joined the Minister of Trade and Industry, Dr Rob Davies and other dignitaries to launch the more than R290m facility.
The floating dock, christened 'Dormac Dock 1', was built in Ukraine and towed by tugboat on an 8,344 nautical mile journey via the Atlantic seaboard to South Africa.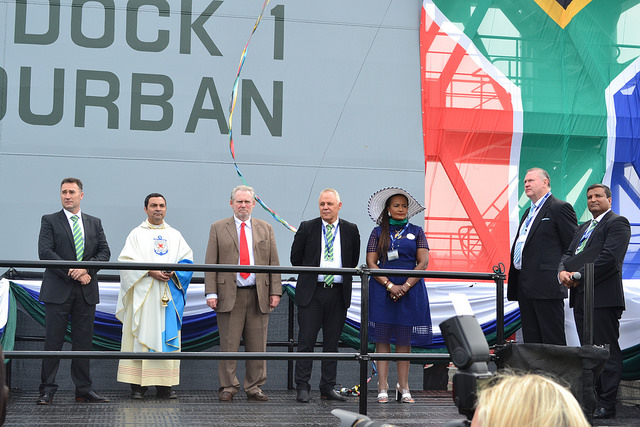 Fr Herman joins other dignataries at the launching ceremony.

Fr Herman said, "I feel truly privileged to be able to perform the blessing. It's a positive acknowledgment of the vital work the Church, through AoS, does in ports and in supporting seafarers.
"I'm delighted to have represented the AoS at the ceremony," he said.
In his speech at the event, Minister Davies said that about 12,000 ships call at South Africa's ports each year, while over 30,000 vessels sail along the South African coastline annually.
Many of these ships are visited by AoS port chaplains in Durban, Cape Town and Port Elizabeth, who provide faith and practical support to seafarers working on board the ships.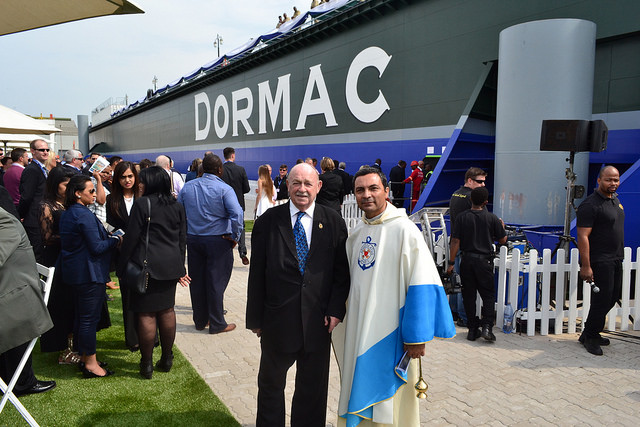 Fr Herman with Terry Whitfield, AoS Durban national director.


We rely on voluntary contributions to sustain our work. Please make a donation today and help us continue our work supporting seafarers