'Getting on' with bereavement at sea
In late May, crew members of a cargo ship, MV Moonray, were left shocked and saddened when an accident on board resulted in the death of their colleague.
The dead seafarer was a 26 year-old Filipino man, part of a close-knit crew, a 'family' at sea.
Not surprisingly the bereavement had a huge effect on the emotional and psychological wellbeing of the other crew members.
Thankfully, they received immediate support from Catholic seafarers' charity Apostleship of the Sea (AoS) in Mombasa, Kenya, where the ship had docked.
AoS Mombasa port chaplain George Sunguh went on board the ship to support the crew and organised Mass to be said on board.
This proved a great comfort to the grieving seafarers. Despite still being in a state of shock, the crew members had to carry on working and the MV Moonray continued its voyage regardless.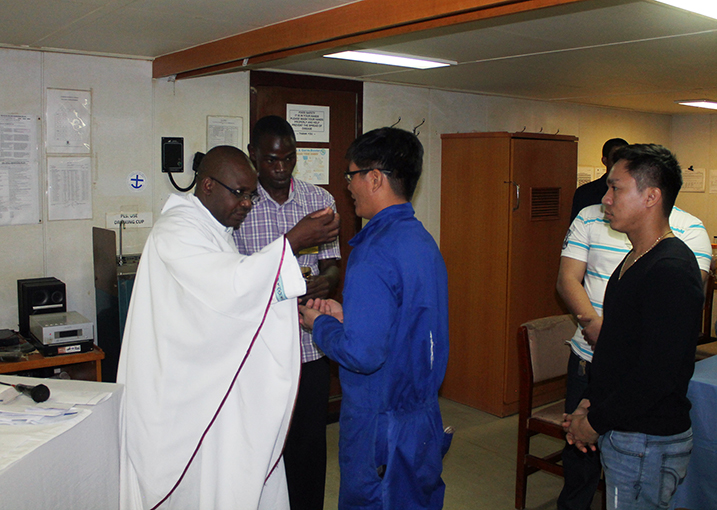 Unlike shore-based workplaces, seafarers don't normally get time-off for bereavement or the necessary support; this is where AoS port chaplains are able to fill such gaps. }
When the ship arrived in Durban port, South Africa, AoS port chaplain Fr Herman Giraldo attempted to board the ship after having tracked the vessel.
Unfortunately, this was not possible as the ship arrived at 2am and set sail again three hours later, spending only a few hours at the port with the crew working all out to get the ship turned around quickly.
Ships nowadays have to meet strict schedules – unnecessary delays mean additional costs.
This particular case illustrates the difficulties posed by short turnaround times when trying to provide support to crew.
In early August, the ship docked at Santos port in Brazil, and AoS port chaplain Fr Samuel Fonseca and his team visited the crew on board. They were reassured by AoS' continued prayers and support for them.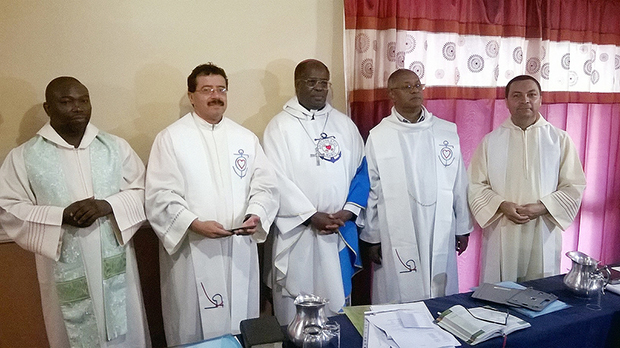 Fr Giraldo (far right) is AoS port chaplain in Durban